The anniversary event of EOPYY held on the occasion of 10 years of operation of the organization, which marked one of the most important reforms in the health sector in our country, was attended by the President of our Association, Anna Spinou, as a speaker on Friday, February 24th in a round table on "Unimpeded access to treatments for the insured of EOPYY – The role of Negotiation".
The moderator of the roundtable was Ms. Nadia Gogozotou, Non-Executive President of EOPYY & Chairperson of the Pharmaceutical Price Negotiation Committee, while the Vice-Chairman of the EOPYY and the Chairperson of the Pharmaceutical Price Negotiation Committee participated with speeches. Professor, Director of the Laboratory of Health Economics & Management of the University of Piraeus, Mr. Athanasios Vozikis, the President of IFSET, Mr. Ioannis Sotiriou, the Director of AstraZeneca, Ms. Elena Houliara, the Market Access Manager of Vianex, Mr. Isidoros Kouyoumtzoglou, the President of VIANEX, Mr. Dimitris Giannakopoulos and the President of the PhRMA Innovation Forum and Managing Director of MSD Greece, Cyprus and Malta, Ms. Agata Jakoncic.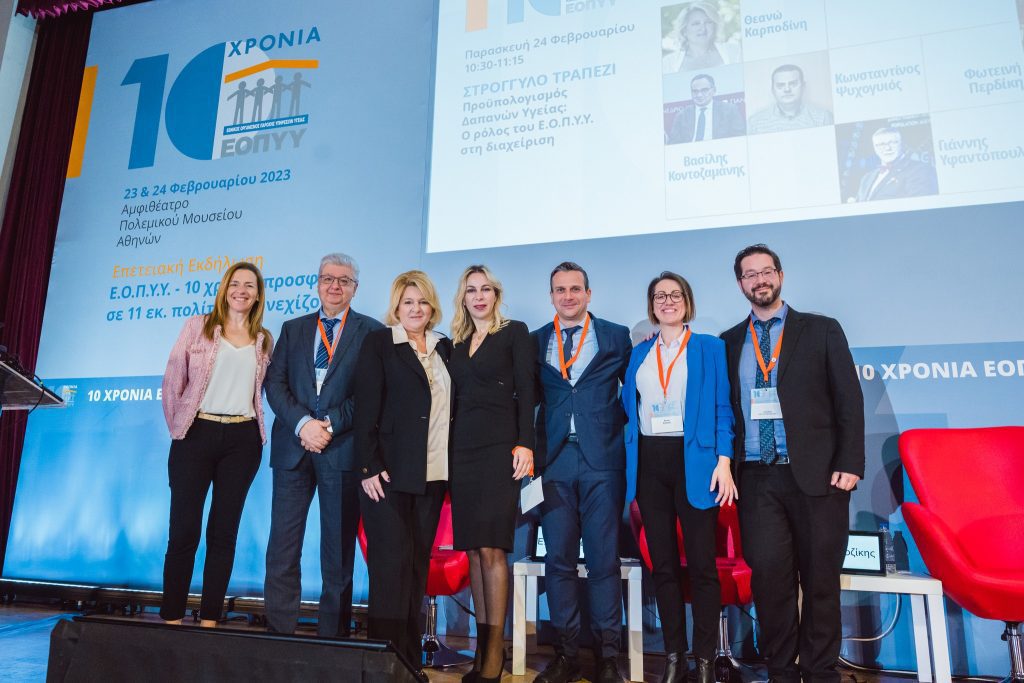 The President of our Association, Anna Spinou, representing patients with Cystic Fibrosis, referred to the successful example of Cystic Fibrosis. She highlighted the pivotal role that Patient Associations can play in claiming patients' immediate and unhindered access to innovative treatments that change their lives and improve their quality of life and survival expectancy. At the same time, he stressed the value of involving trained patient representatives in the processes of negotiating reimbursement of treatments, as patients, as the final recipients of the outcome of the negotiation, can collect real data that can be used by the Negotiation Committee to facilitate its work.
During her speech, our President, Anna Spinou, warmly thanked all EOPPY executives for their interest, sensitivity and efforts for the benefit of patients and especially EOPPY's Administrator, Ms. Theano Karpodini, the Non-Executive President of EOPYY and Chairwoman of the Pharmaceutical Price Negotiation Committee, Ms Nadia Gogozotou, the Head of the Pharmacy Department, Ms Panagiota Litsa, the Head of the Planning and Monitoring of Drug Administration Department, Ms Hara Kani, and the Head of the EOPYY Pharmacy Management Department, Ms Euphrosini Prinea.
After the round table, Mrs Gogozotou and Mrs Karpodini congratulated our President, mentioning the emotion they feel and the moral reward they receive from seeing in her face all the patients who, thanks to the actions for early access to innovative treatments, have improved their quality of life and increased their life expectancy.
The anniversary biennial conference was held on 23 and 24 February 2023 at the "Ioannis Kapodistrias" Amphitheatre of the Athens War Museum and included a wide range of topics with interesting speeches by executives and employees of EOPYY, partner institutions, representatives of the State and the scientific community, representatives of patient associations and pharmaceutical representatives.